Driver Testimonials
Valley has a great bonus program set up as well as the option for all the miles you are wanting to run. The benefits are great and so is the home time. I run 8 axles here and I am very happy with my choice to work at Valley! I have been a driver at Valley since October 2018. I love this company.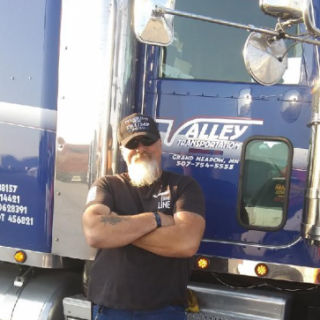 Kevin Tash
Company 8-Axle OTR Driver
I have been with Valley Transportation for over four years. I really enjoy working for this company. It has many perks, from a great bonus program to nice rooms to stay in while a stay is needed in the yard. The trucks are late-model Peterbilts and are well-maintained and equipped with Thermo-King APUs. Great company to work for!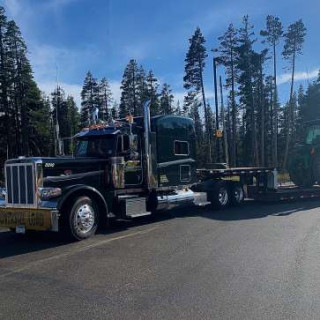 Michael Witkowski
Company 6-Axle OTR Driver
Before being hired at Valley Transportation Service, Inc. I was with a drive-in carrier for approximately 5 years. Then the miles started to drop off and I was forced to look elsewhere so that I could pay my bills. When looking for other trucking companies I was very leery about some of them as for the lack of testimonials that spoke highly of the other companies in the trucking industry. Until I looked at Valley. Valley was by far the one company that I decided to apply for. When I got a call back from Daryl the recruiter I let him know that my experience with oversized and Heavy Haul was old and I was fearful that I would not get hired. Upon explaining this to Mr. Jensen (Daryl) he took my application and my previous experience into one of their safety meetings and presented the application and it was decided that they would hire me. I got the good news and I started in March of 2020. Valley is not your run-of-the-mill trucking company I stay have accounts if they have had for many many years. When I first started I let the orientation coordinator know that I needed a refresher on load securement and that's when they sent in Mr. Sween. Mr. Sween showed me pictures from other drivers that were taken after their loads were secured and refreshed my memory. After being here with Valley for over a year I realized that this company is all about safety, making sure that your loads are secure by sending in pictures, making sure that your permits are up-to-date, and making sure that you, the driver, get your bonus on your anniversary date. Valley wants its drivers to succeed. What Valley does not want is drivers who are reckless and have no regard for safety and DOT regulations. If you have all of these qualities that Valley is looking for call Mr. Jensen here at Valley and he can let you know everything that I just told you. I am extremely happy with Valley and I have no issue with any of the dispatchers or any of the office personnel.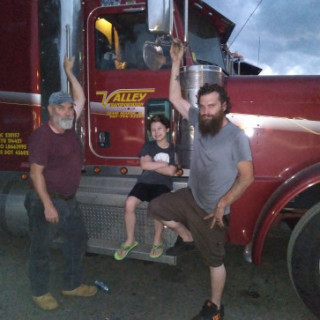 David Cheaney
Company 5-Axle OTR
It's been over 5 years now since I started working at Valley. During this time I have experienced some of the most kind and caring support groups in all my years of working. The permit department is top-notch and more times than not has caught my mistakes, corrected them, and saved me from having a very bad day. Now I could go on for quite some time bragging about the shop, but I will try to just stick to the highlights. The mechanics are probably the best you could ask for. They are kind and thoughtful and treat you with the utmost respect. Their performance is outstanding and thorough. No slackers here. They have always addressed me by name and never by a number. The shop office staff is extremely knowledgeable and is essential support out on the road. Over time they have taught me how to perform many repairs myself that allow me to keep moving forward and not wait days to get into a shop somewhere in the 48 states that we run. With their knowledge and support breakdowns are a whole less painful. These two aspects of the shop work seamlessly together and provide me with outstanding service and support. Then there is the wash bay and detail shop whose staff do an excellent job of keeping my truck and trailer looking good. They also make sure that if for some reason I need to use a loaner truck it is clean both inside and out, allowing me to feel comfortable in a truck someone else has been using. Over the years I have been with Valley Transportation I have learned that the people who work in the support departments have integrity and are honest hard working people whose high-level performance allows me to be successful. If you are looking for a change and having outstanding support when out on the road is important to you, Valley Transportation just may be what you are looking for.

Feel free to reach out to me if you would like.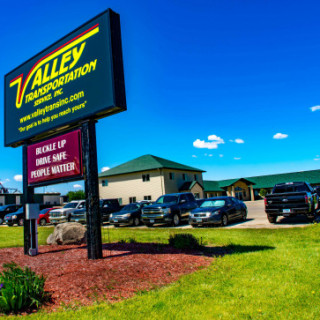 Gene Sly
Company 11-Axle OTR Driver
What Our Customers Have To Say
I have worked with Brent and Blayne for several years now, as well as many of your drivers, and I am happy to say I would recommend you to anyone. I have found it works both ways, I get a call or email when you have trucks in the area and I am calling or messaging when I need product hauled and it has worked out very well for both sides. There have been delivery address changes on the fly and redirecting loads and all that goes with the freight industry, and we have worked together for the most part in good humor and everything has always worked out. So five stars for customer service!
I drove down to visit your office last fall and Brent gave me a tour, which I enjoyed. Please use us as a very satisfied and happy customer!
Valued Valley Transportation Customer
10+ Years
We have been using Valley Transportation for many years to move equipment all across the country. Our experience has been great, everyone in the office is helpful and thorough, and the response time is great every time I call in about a quote or to find out the location of a load. Their drivers are very professional from ensuring the loads are secure, to calling ahead about delivery. Valley does a great job about keeping their fleet current, it adds reassurance knowing that your equipment is going to be hauled on a newer truck and trailer. For the loads that Valley Transportation can't pickup with their own trucks, the brokerage department makes sure that brokered trucks meet the same standards of Valley Transportation. I would and I have highly recommended Valley Transportation to anyone looking to get their equipment moved.
Valued Valley Transportation Customer
15+ Years
We have used Valley for 25 years. We have hired them to move hundreds, if not, thousands of specialized heavy equipment loads for us in that time frame. They have always been consistently and competitively priced, and more than anything, they have always been fair and honest in their dealings with us. They have been a company full of good people that we can depend on fully.
Valued Valley Transportation Customer
25 Years